Features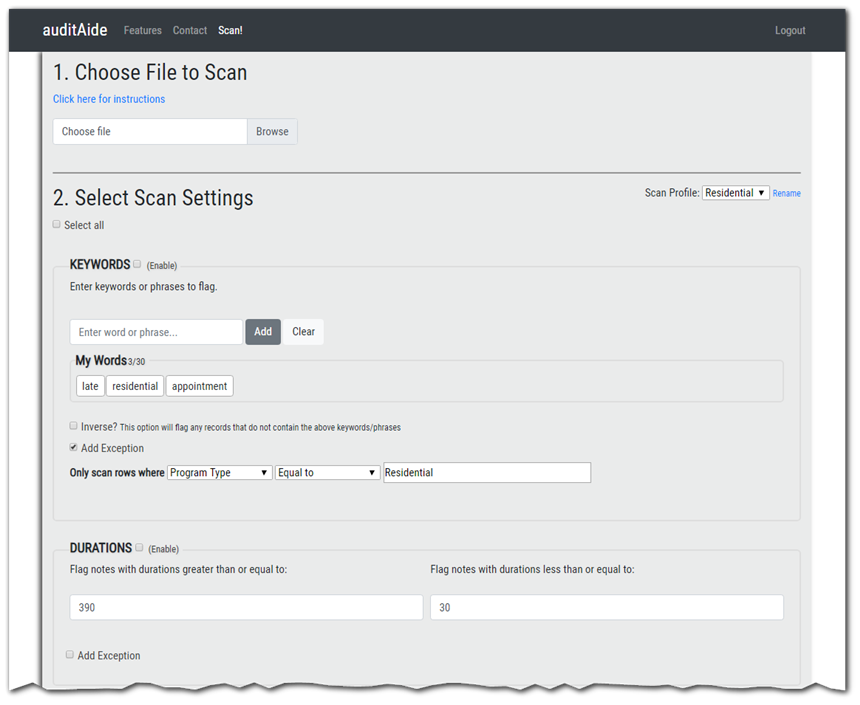 If you're submitting hundreds or thousands of claims a month, you need creative solutions for identifying data that would be questioned during an audit, finding user errors that would result in claims adjustments/reversals/voids, and for identifying potential revenue left on the table. Scrubbing a percentage of data before billing or conducting look back audits is not enough.
With auditAide thousands of data elements are scrubbed instantly and automatically based on customizable criteria you set. Just upload an Excel file, set your criteria, and audit away!
With a single file upload Audit Aide checks for the following...
Chart/note length - flag notes that are too short.
Client/patient names - flag notes containing names of other clients/patients.
Comparisons - upload another file and compare data from both.

Attendance - find mismatched data between two files.
Self-Serve - upload two files and run checks on them yourself with simple filters.
NEW! Billing - upload a batch file of invoices and see services that are missing invoices or vice versa

Daily Totals - identify clients with partial attendance to help drive business and clinical decision-making.
Duplicated content - find copy/paste behavior of staff trying to take shortcuts.
Duplicates - identify documentation with matching dates and times.
Durations - identify errors in service duration where you will claim for too much or fraudulent claims.
Group Limit - Flag services in a similar time frame that contain more than an allowable amount of clients
Last Modified - flag notes completed too early or too late.
Non-contiguous notes (gaps) - For multiple services provided throughout any given day, find
Overlapping Services - Easily identify multiple services provided to a client on the same day that have overlapping times, or the same service documented multiple times on the same day.
Overlapping Staff - find staff that have written overlapping services for different clients.
Times - quickly identify unusual times that a service(s) was provided.
Unusual Service Dates - Does your business operate Monday-Friday? Flag any notes written on a Saturday or Sunday.
Words/phrases - to help identify words or phrases indicative of errors in billing, compliance, or for sentiment analysis.
too little.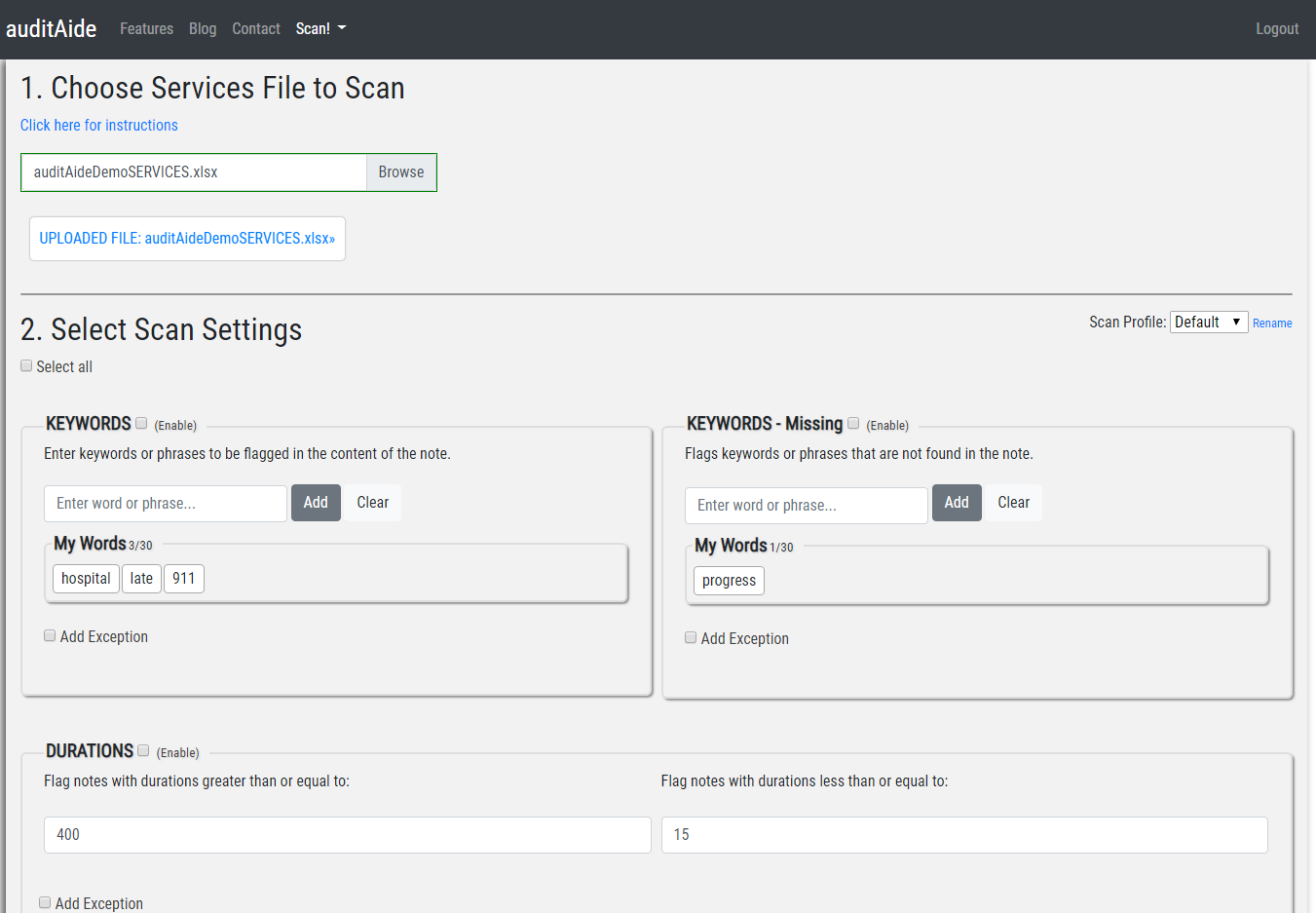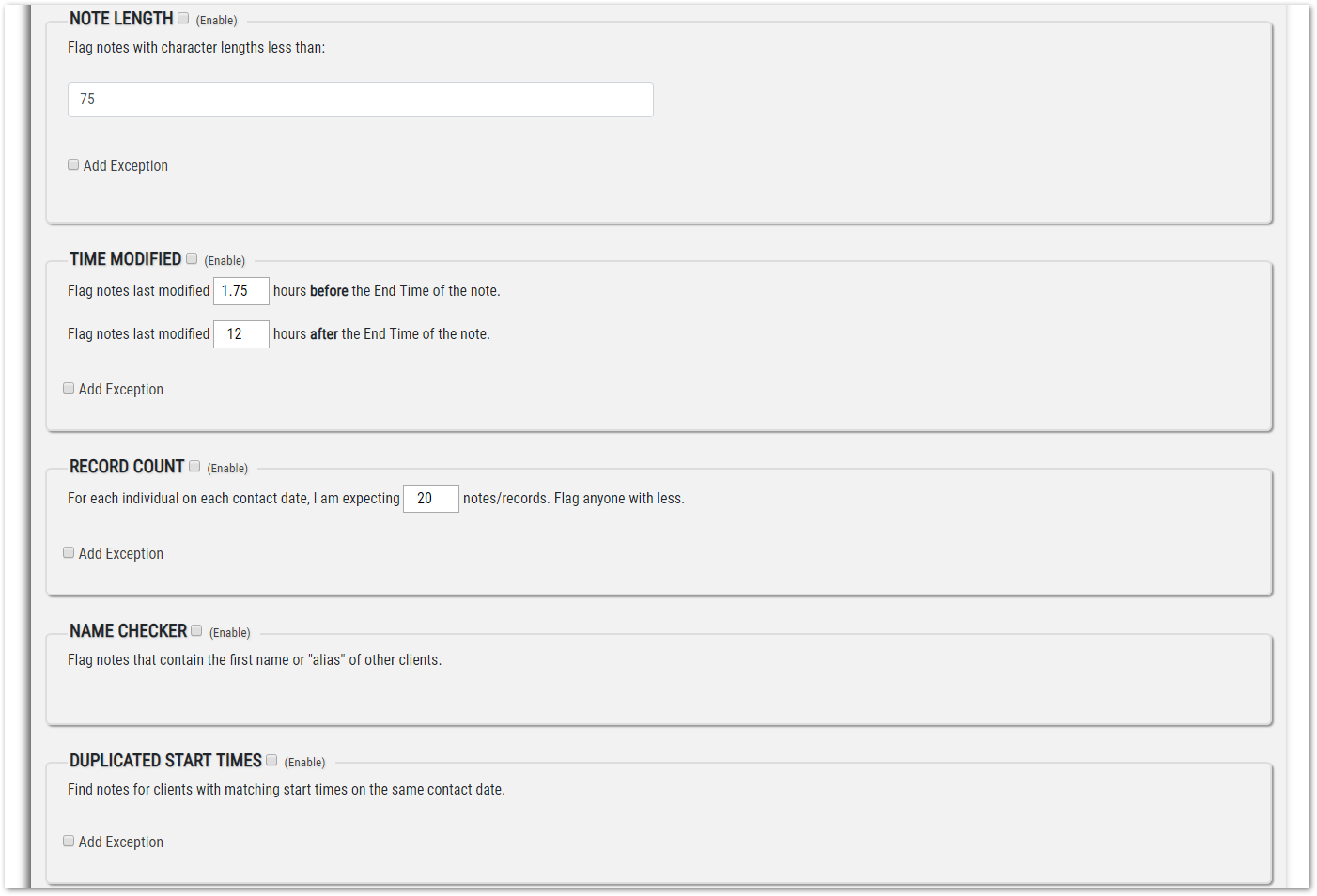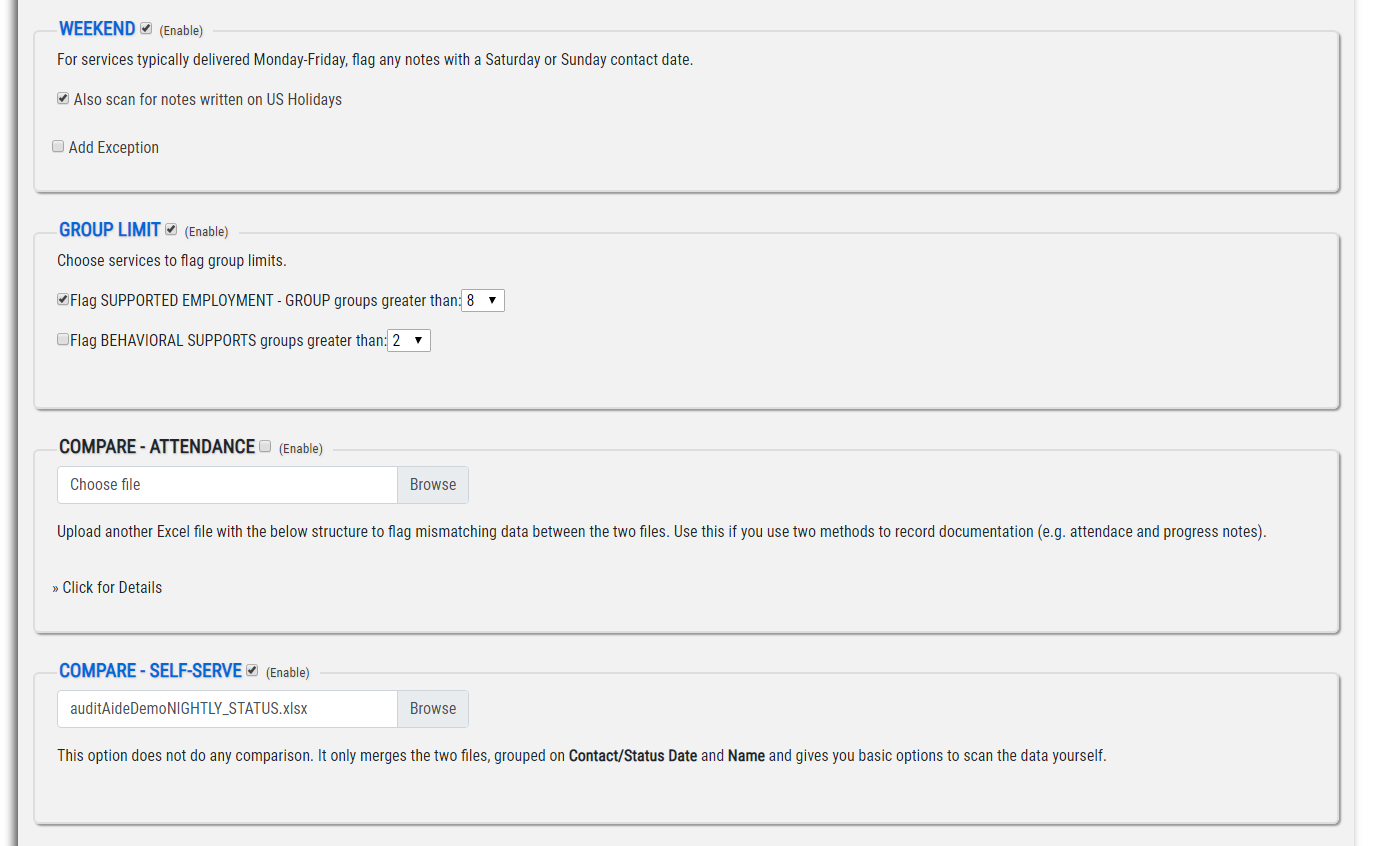 Choose one or all modules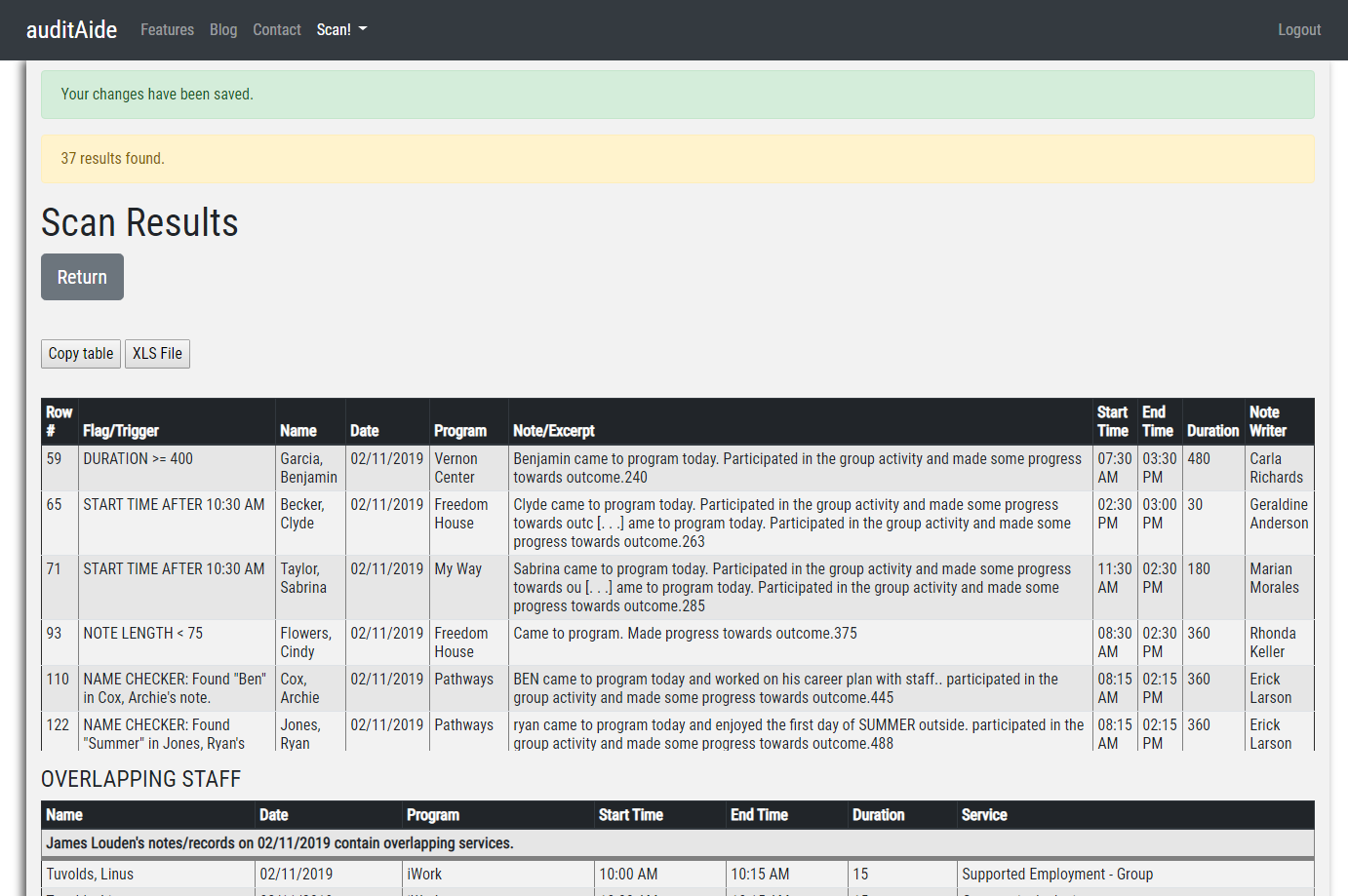 Results can be exported or copied to your own file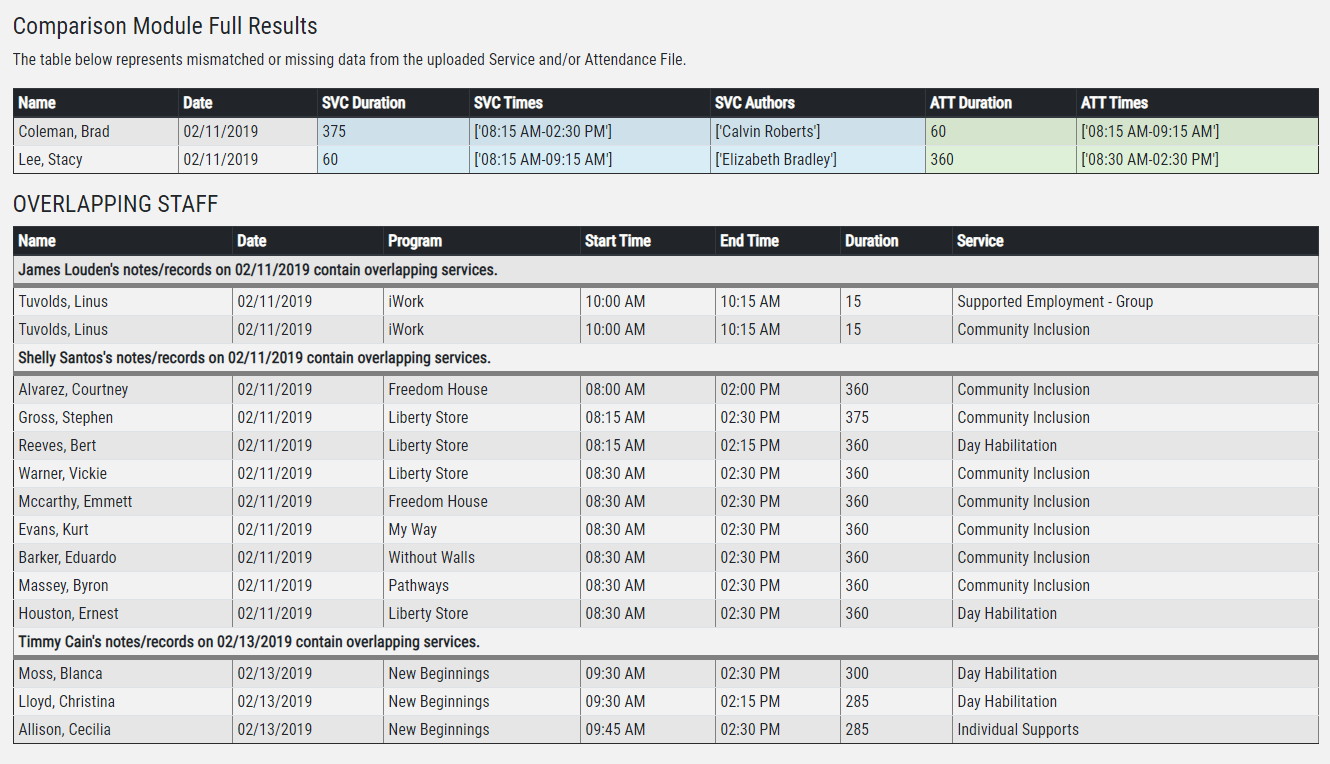 RESULTS - Comparison & Overlapping Staff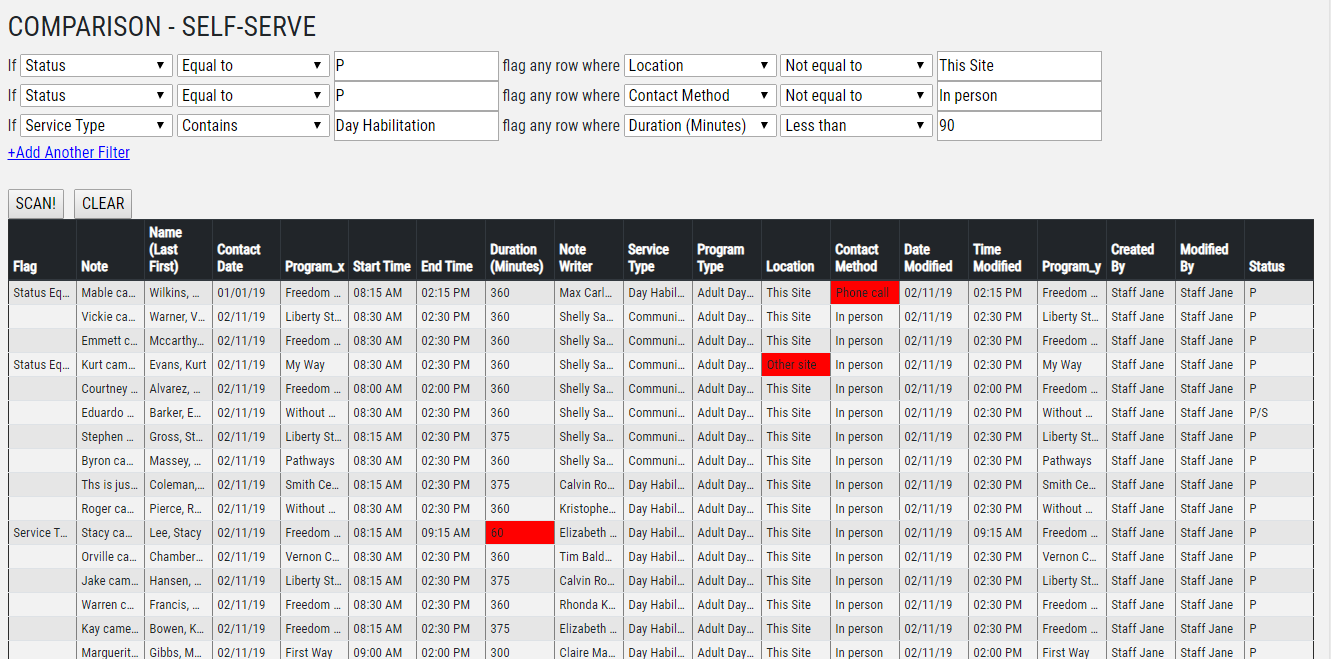 RESULTS - Comparison Self-Serve
Who are you?
You or your staff work in data compliance or quality improvement/assurance, responsible for keeping up with regulatory requirements and protecting the data of your organization.
How it works
Upload a data file to be scanned.
Configure your scan settings
Review the results!
Export data out of your EHR/EMR and import it into auditAide. Choose your audit/scan settings. The results are displayed in a table, allowing you to quickly copy and paste it into your own file or download a separate Excel file. Scan criteria is saved after every execution, so you only have to change your settings once. Scan modules can also be run all at once or seperately, giving the user greater flexibility.
Benefits
Auditing/QA - Reduce time spent on auditing and quality assurance measures.
Protection - Protect your agency from generating and sending claims that would be fraudulent.
Billing Operations - Reduce or eliminate time spent voiding or adjusting claims.
Compliance - Examine your notes for compliance with agency and regulatory compliance.
Management Reporting - Get the most out of your data: use auditaide to find clients or programs with poor attendance.
For inquiries or to receive a free demo, please Contact Me!
×